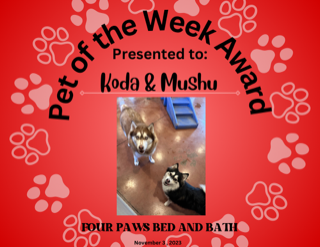 Weekly Spotlight - Koda & Mushu!
Time for your spotlight Koda and Mushu the dynamic duo!
Koda has a gentle and quiet personality and loves everyone, although it's understandable that he may not get along with cats.
Mushu's energetic nature and love for jumping must make him quite entertaining to be around!
It's cute that he enjoys food and spending time with Koda. And it's always interesting when a dog likes water!
This pair of brothers make the daycares so much fun and full of energy
We love having them just like all the furry friends we get!